Panevėžys basketball team Lietkabelis starts the new season with new sponsor. One of the largest groups of building maintenance and engineering solutions companies in the Baltic States, Civinity, has become a sponsor of one of the leaders of Lithuanian basketball teams.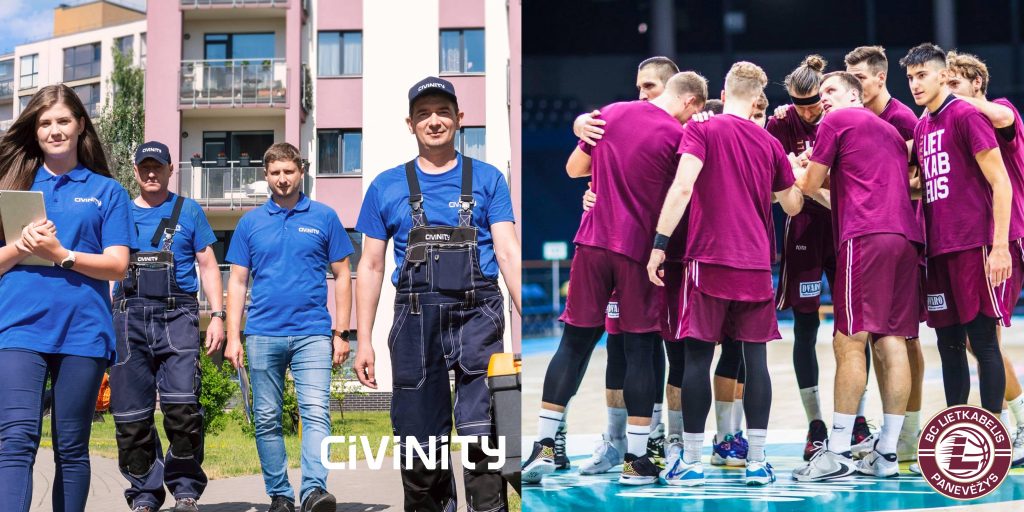 Civinity actively supports Lithuanian sport by implementing social responsibility projects. At the beginning of this summer, the group of building maintenance and engineering solutions companies became a sponsor of the Klaipėda football team Neptūnas. Now the company starts the autumn by supporting Lithuanian basketball and becoming a sponsor of the Panevėžys basketball team Lietkalbelis.
"Signing the cooperation agreement with Civinity has become good news for Lietkabelis club and an additional incentive for victories in the starting season of 2021/2022. Thanks you for the trust and we hope that our cooperation will become long-term and will help to achieve common goals." – says Martynas Purlys, Director of Lietkabelis Club.
"I am glad that we continue the tradition to support Lithuanian sport in the scope of our social projects and that we become sponsors of one of the strongest Lithuanian national basketball team Lietkabelis." says Deividas Jacka, shareholder and CEO of Civinity group, who has signed a sponsorship agreement. "We believe in the team of Lietkabelis professionals just as we believe in the inexhaustible spirit of basketball in Lithuania."
According to D. Jacka, both Civinity and Lietkabelis strive for the highest victories in their fields and work for the sake of making people feel good and be happy.
"Civinity team works to make our customers feel good and enjoy their normal rhythm of life, no matter in what building they are in. I believe that Lietkabelis team has the same goal: to make the club's fans feel good and happy while watching the team's victories both in the basketball arenas and at home. To contribute to new victories, we become a supporter of this team and wish the greatest success to the players and coaches." – comments D. Jacka.
"We believe in the team of Lietkabelis professionals just as we believe in the inexhaustible spirit of basketball in Lithuania."

Deividas Jacka, shareholder and CEO of Civinity group